Lauren Hovik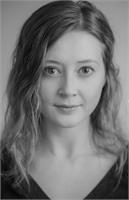 Lauren Hovik is a lifelong mover, dancer, teacher, and advocate for healthy active living. She graduated magna cum laude from the University of Idaho with Bachelors of Science degrees in both Dance and Exercise Science and Health. During this time, she found a passion for Pilates after seeing the difference it made in both her dancing and in minimizing her chronic aches and pains. Lauren completed her Comprehensive Pilates Teacher Training with Dance Specialization through Body Arts and Science International (BASI) and is consistently pursuing continuing education. She is a member of the International Association for Dance Medicine and Science where her research in jump landing biomechanics was chosen for presentation in 2015. Lauren has taught Pilates and dance courses for the University of Idaho as well as for various schools and studios in Idaho, Washington, Utah, and Alaska. She has danced professionally with Vytal Movement Dance Company, Wasatch Contemporary Dance Company, and Long Beach Ballet performing throughout China and across the United States. Lauren is interested in researching the body through performance and somatic practices.
Lauren Hovik instructs the following:
Reformer is the MOST POPULAR type of PIlates apparatus. With it's continual pull from both ropes and springs, then adding in resistance from your own body weight, this is sure to be a FULL BODY, INTENSE WORKOUT!




This circuit class is taught by a professional dancer and open to anyone who wants to enhance their dance technique, flexibility and strength for overall body awareness and longevity of your career!




This class circuits through all of the large pieces of Pilates Equipment to include the Reformer, Trapeze Table and Pilates Chair offering you an eclectic and challenging workout!




This class adds extra cardio with non-stop exercises to traditional Pilates workouts. We will amp up the intensity and fatigue your muscles giving you results! You will work your full body to blast calories, strengthen your core, enhance flexibility, and perk up that booty! Though targeted toward intermediate and advanced students, all are welcome as exercises can be adjusted to intensify or modify your workout depending on how hard you want your butt kicked.*New clients please arrive 10 minutes before the start of class so we can familiarize you with the equipment and technique you will be using.




This Reformer class for BEGINNERS will teach you the fundamentals of this wonderful piece of Pilates Apparatus. Learn the spring settings, breathing and fundamental principles behind this spring/rope Reformer system.




MEN ONLY! Circuit through all of the Pilates Apparatus, work out on the Pilates Chair and 4 point Bodhi Suspension system, along with Reformer and Cadillac work. Your entire body will be strengthened, stretched, abs tightened and low back pain...GONE!




Pilates Mat challenges the participant to gain abdominal and back strength. The exercises combine the two areas to create a strong, lean, balanced body.




This beginner class will give you an idea of what the Reformer and Mat series has to offer. Mixing two wonderful components of Pilates work together for a deeper understanding of how the mat work accentuates the apparatus and vice versa.