Ashley Mach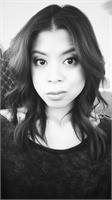 Ashley Mach is a certified Pilates instructor through Pilates Sports Center. Ashley comes from a background of being very non athletic she wanted a lifestyle that encouraged her to stay in shape and have more energy. Ashley started to work out with Pilates in high school and college. Shortly after college she decided to pursue her passion in Pilates and enrolled in a 500 hour program through Pilates Sports Center. She received training in both modern and traditional Pilates techniques. As well as, a thorough knowledge in anatomy of the human body. Shortly after starting her training she started teaching as an apprentice and taught until she received her certification.
Ashley Mach instructs the following:
A Pilates Arc. Where we will put it...nobody knows...this could be a mat class, reformer class or circuit with it around the entire studio... A SURPRISE each time you come in! With a gentle curve on one side and a steeper curve on the other, asymmetrical shape is extremely versatile for different uses and body types. You'll appreciate the improved comfort and ergonomics - use it to provide back support and stability for a variety of strength and mobility challenges.




Reformer with a twist...you won't know whether it's a Jumpboard day, Cardio Reformer, Arc Reformer, or more! Come see what awaits!




Reformer is the MOST POPULAR type of PIlates apparatus. With it's continual pull from both ropes and springs, then adding in resistance from your own body weight, this is sure to be a FULL BODY, INTENSE WORKOUT!




This Reformer class for BEGINNERS will teach you the fundamentals of this wonderful piece of Pilates Apparatus. Learn the spring settings, breathing and fundamental principles behind this spring/rope Reformer system.




Fun, Firming and 1 step closer to a Fabulous you! Melt away the calories with Body Barre! It is our exclusive Pilates and Cardio based fitness program which will transform your body in just 30 sessions. This 60-minute routine designed to target your problem areas like the buttocks, waistline, and upper arms will get results fast. Amp up your fitness and add Body Barre to your Team Pilates Studio experience today! Based on Boston Body Barre created by Zayne Gold, and taught by professional Ballet Dancer, Angelie Melzer, you are sure to notice that this version of Barre class is one of the safest and most effective in the industry today. Backed by Balanced Body, the leading name in the Pilates Industry for both equipment and education, you can rest easy and burn those calories in a safe and fun environment!




Baby Barre is a fun way to play with your babe (Or babe-to be for our pre-natal mamas) while you workout and get some adult social interaction! Triple the fun! This workout will include you and your baby interacting (they get to be your free weights). Same Barre fun with ab toning, thigh firming and cardio blast...just with your sidekick included! Open to babies ages 0-2 years old.




Combine the resistance and flow of the Reformer with the power of the Pilates Chair and you've got a duo to reckon with!




Feel the full benefits Pilates offers as you transform you body and circuit through all of the Pilates Equipment, to include the Reformer, Trapeze, Pilates Chair and Ladder Barrel!




Pilates Mat challenges the participant to gain abdominal and back strength. The exercises combine the two areas to create a strong, lean, balanced body.




This class adds extra cardio with non-stop exercises to traditional Pilates workouts. We will amp up the intensity and fatigue your muscles giving you results! You will work your full body to blast calories, strengthen your core, enhance flexibility, and perk up that booty! Though targeted toward intermediate and advanced students, all are welcome as exercises can be adjusted to intensify or modify your workout depending on how hard you want your butt kicked.*New clients please arrive 10 minutes before the start of class so we can familiarize you with the equipment and technique you will be using.




MEN ONLY! Circuit through all of the Pilates Apparatus, work out on the Pilates Chair and 4 point Bodhi Suspension system, along with Reformer and Cadillac work. Your entire body will be strengthened, stretched, abs tightened and low back pain...GONE!




This class circuits through all of the large pieces of Pilates Equipment to include the Reformer, Trapeze Table and Pilates Chair offering you an eclectic and challenging workout!