Scott Bishop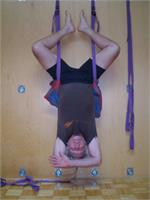 Scott was a competitive weightlifter at the University of Colorado and received a degree in Physical Education. He then became a Strength Coach at Mesa College in Grand Junction, Colorado. Scott received a great deal of inspiration from practicing Hatha and Inyengar Yoga with Mohamaud Hosseni, Iyengar Yoga Master from Boulder, CO. Scott has studied Yoga in Richmont, CA as well with Rodney Yee and Jason Crandell from Yoga Journal. Scott received a certification in Iyengar Yoga at the Center for Yoga of Seattle.
When not teaching Yoga in Spokane, Scott holds classes at the Yoga Sol in Carson City, NV. Any spare time is spent working at the Mead School District in Spokane, WA.
Scott Bishop is currently not instructing any classes.