Kris Duke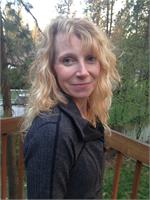 Kris Duke is originally from the Spokane area, but has also lived in Denver, CO and Las Vegas, NV. Kris's interest in physical fitness started when she was a college student. Her interest started with aerobics and weight training at SFCC. Thirteen years ago she hesitantly ventured into an adult ballet class while her young daughters were taking their own classes. She liked it so much, that she started taking floor barre and Pilates, which were also offered as part of the adult class schedule.
Three years ago, Kris discovered how Pilates can bring a person back from injuries and make someone stronger than they were before. When Kris's daughter Tori was recovering from back and ankle injuries due to dance, Kris found Angelie Melzer to help her daughter rehabilitate her body. Angelie insisted that Kris would be an excellent instructor, and with a little bit of convincing, Kris took her first Balanced Body course, Body Barre. Kris instantly fell in love with Pilates. Since then she has gone on to receive her certifications from Balanced Body in Pilates Mat and Springboard.
Kris continues to grow everyday in her love and appreciation of Pilates. She also enjoys meeting new people and helping them discover what their body is capable of with proper Pilates training.
Kris Duke instructs the following:
This Class is designed specifically for Runners and Wanna Be's! It will begin with a Pilates Mat and Apparatus Circuit Class, followed by a group run/walk and back to the studio for an amazing cool down/release to ensure you are injury free for any races coming your way!!




This "Circus" is a fabulously FUN adventure of movement! It includes a combination of BODHI suspension system, Barre Reformer, Chair and Springboard.




This 45 minute CARDIO class on the Reformer Jumpboard, will burn in all the right places and get your heart "throbbing" with excitement!




Reformer is the MOST POPULAR type of PIlates apparatus. With it's continual pull from both ropes and springs, then adding in resistance from your own body weight, this is sure to be a FULL BODY, INTENSE WORKOUT!




Fun, Firming and 1 step closer to a Fabulous you! Melt away the calories with Body Barre! It is our exclusive Pilates and Cardio based fitness program which will transform your body in just 30 sessions. This 60-minute routine designed to target your problem areas like the buttocks, waistline, and upper arms will get results fast. Amp up your fitness and add Body Barre to your Team Pilates Studio experience today! Based on Boston Body Barre created by Zayne Gold, and taught by professional Ballet Dancer, Angelie Melzer, you are sure to notice that this version of Barre class is one of the safest and most effective in the industry today. Backed by Balanced Body, the leading name in the Pilates Industry for both equipment and education, you can rest easy and burn those calories in a safe and fun environment!




A fusion of upper leg, inner thigh, glute and core strengthening.
This class will utilize Props, Pilates and Power! Walk away with a "smiley" butt!