Yoga Chair/Mat
This class is taught by: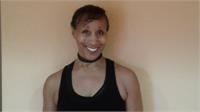 Leslie has been teaching Yoga for over 30 years and was a professional modern dancer, so she knows movement!

"Leslie can easily teach to all student levels. She readily adapts her strengths to fit the demands of the participants and can jump into any class and apply her vast knowledge base to deliver what people expect."
A great way to gain a basic understanding about the benefits of yoga and breathing while using the support of the chair and mat. All levels welcome!!
Upcoming classes:
Sign Up

Mon

Jan 21 11:00 am - 12:00 pm

with

Leslie

DoQui Sretenovic




Sign Up

Mon

Jan 28 11:00 am - 12:00 pm

with

Leslie

DoQui Sretenovic




Sign Up

Mon

Feb 04 11:00 am - 12:00 pm

with

Leslie

DoQui Sretenovic




Sign Up

Mon

Feb 11 11:00 am - 12:00 pm

with

Leslie

DoQui Sretenovic




Sign Up

Mon

Feb 18 11:00 am - 12:00 pm

with

Leslie

DoQui Sretenovic




Sign Up

Mon

Feb 25 11:00 am - 12:00 pm

with

Leslie

DoQui Sretenovic




Sign Up

Mon

Mar 04 11:00 am - 12:00 pm

with

Leslie

DoQui Sretenovic




Sign Up

Mon

Mar 11 11:00 am - 12:00 pm

with

Leslie

DoQui Sretenovic




Sign Up

Mon

Mar 18 11:00 am - 12:00 pm

with

Leslie

DoQui Sretenovic




Sign Up

Mon

Mar 25 11:00 am - 12:00 pm

with

Leslie

DoQui Sretenovic




Sign Up

Mon

Apr 01 11:00 am - 12:00 pm

with

Leslie

DoQui Sretenovic




Sign Up

Mon

Apr 08 11:00 am - 12:00 pm

with

Leslie

DoQui Sretenovic




Sign Up

Mon

Apr 15 11:00 am - 12:00 pm

with

Leslie

DoQui Sretenovic




Mon

Apr 22 11:00 am - 12:00 pm

with

Leslie

DoQui Sretenovic




Mon

Apr 29 11:00 am - 12:00 pm

with

Leslie

DoQui Sretenovic




Mon

May 06 11:00 am - 12:00 pm

with

Leslie

DoQui Sretenovic




Mon

May 13 11:00 am - 12:00 pm

with

Leslie

DoQui Sretenovic