Empower for Hope
This class is taught by: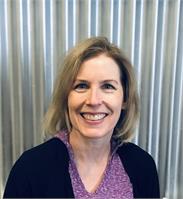 I have been a client with Angelie for the past four years. It was while working with her trying to rehab my hip that I first realized how disconnected I was to my own body, particularly in my pelvic area. It can be a hard and painful process to come back and live in your body, but I remember the first time I felt like I fully inhabited my own body, it was an incredible experience and worth all the hard work. I have since become an apprentice instructor in the Gyrotonic method of movement.I am a person who has been abused and has spent a lot of years learning how to live with the damaged parts of me in a healthy way. I understand how the experience of abuse cuts to the very core of you not only mentally and emotionally but it can also cause you to feel like your own body isn't yours anymore. Your body is no longer a place of safety. It's not home. I want Empower for Hope to be a place that allows a space for women to come and be and learn how to come home again in their own bodies. It's a journey I have walked and continue to walk. I have been able to come home. It's my passion to be able to walk beside other women who have been abused and to be a voice of understanding and hope.
EMPOWER FOR HOPE: Giving abuse victims a safe haven. A safe place to come and meet, laugh, cry and feel supported.
Upcoming classes:
Sign Up

Mon

Feb 04 7:00 pm - 8:30 pm

with

Alison

Dyer




Sign Up

Mon

Feb 11 7:00 pm - 8:30 pm

with

Alison

Dyer




Sign Up

Mon

Feb 18 7:00 pm - 8:30 pm

with

Alison

Dyer




Sign Up

Mon

Feb 25 7:00 pm - 8:30 pm

with

Alison

Dyer




Sign Up

Mon

Mar 04 7:00 pm - 8:30 pm

with

Alison

Dyer




Sign Up

Mon

Mar 11 7:00 pm - 8:30 pm

with

Alison

Dyer




Sign Up

Mon

Mar 18 7:00 pm - 8:30 pm

with

Alison

Dyer




Sign Up

Mon

Mar 25 7:00 pm - 8:30 pm

with

Alison

Dyer




Sign Up

Mon

Apr 01 7:00 pm - 8:30 pm

with

Alison

Dyer




Sign Up

Mon

Apr 08 7:00 pm - 8:30 pm

with

Alison

Dyer




Sign Up

Mon

Apr 15 7:00 pm - 8:30 pm

with

Alison

Dyer




Mon

Apr 22 7:00 pm - 8:30 pm

with

Alison

Dyer




Mon

Apr 29 7:00 pm - 8:30 pm

with

Alison

Dyer




Mon

May 06 7:00 pm - 8:30 pm

with

Alison

Dyer




Mon

May 13 7:00 pm - 8:30 pm

with

Alison

Dyer