Pilates Arc-Surprise
This class is taught by: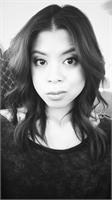 Ashley Mach is a certified Pilates instructor through Pilates Sports Center. Ashley comes from a background of being very non athletic she wanted a lifestyle that encouraged her to stay in shape and have more energy. Ashley started to work out with Pilates in high school and college. Shortly after college she decided to pursue her passion in Pilates and enrolled in a 500 hour program through Pilates Sports Center. She received training in both modern and traditional Pilates techniques. As well as, a thorough knowledge in anatomy of the human body. Shortly after starting her training she started teaching as an apprentice and taught until she received her certification.
A Pilates Arc. Where we will put it...nobody knows...this could be a mat class, reformer class or circuit with it around the entire studio... A SURPRISE each time you come in! With a gentle curve on one side and a steeper curve on the other, asymmetrical shape is extremely versatile for different uses and body types. You'll appreciate the improved comfort and ergonomics - use it to provide back support and stability for a variety of strength and mobility challenges.
Upcoming classes: