Yoga Fundamentals
This class is taught by: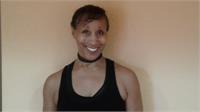 Leslie has been teaching Yoga for over 30 years and was a professional modern dancer, so she knows movement!

"Leslie can easily teach to all student levels. She readily adapts her strengths to fit the demands of the participants and can jump into any class and apply her vast knowledge base to deliver what people expect."
Yoga Fundamentals teaches basic foundation and preparation towards building a yoga practice.Participants will learn where and how to set hands and feet, basic breathing techniques and how to modify yoga poses.As the student gains a sure footing in these areas we will begin linking poses and exploring the transition between poses. Next, we will discuss the importance of bandas (root locks), and the vayus (the 5 directions of energies) and how breath and consciousness are inherently linked.All levels are welcome!
Upcoming classes:
Sign Up

Thu

Oct 26 5:00 pm - 6:00 pm

with

Leslie

DoQui Sretenovic




Sign Up

Thu

Nov 02 5:00 pm - 6:00 pm

with

Leslie

DoQui Sretenovic




Sign Up

Thu

Nov 09 5:00 pm - 6:00 pm

with

Leslie

DoQui Sretenovic




Sign Up

Thu

Nov 16 5:00 pm - 6:00 pm

with

Leslie

DoQui Sretenovic




Sign Up

Thu

Nov 23 5:00 pm - 6:00 pm

with

Leslie

DoQui Sretenovic




Sign Up

Thu

Nov 30 5:00 pm - 6:00 pm

with

Leslie

DoQui Sretenovic




Sign Up

Thu

Dec 07 5:00 pm - 6:00 pm

with

Leslie

DoQui Sretenovic




Sign Up

Thu

Dec 14 5:00 pm - 6:00 pm

with

Leslie

DoQui Sretenovic




Sign Up

Thu

Dec 21 5:00 pm - 6:00 pm

with

Leslie

DoQui Sretenovic




Sign Up

Thu

Dec 28 5:00 pm - 6:00 pm

with

Leslie

DoQui Sretenovic




Sign Up

Thu

Jan 04 5:00 pm - 6:00 pm

with

Leslie

DoQui Sretenovic




Sign Up

Thu

Jan 11 5:00 pm - 6:00 pm

with

Leslie

DoQui Sretenovic




Sign Up

Thu

Jan 18 5:00 pm - 6:00 pm

with

Leslie

DoQui Sretenovic




Thu

Jan 25 5:00 pm - 6:00 pm

with

Leslie

DoQui Sretenovic




Thu

Feb 01 5:00 pm - 6:00 pm

with

Leslie

DoQui Sretenovic




Thu

Feb 08 5:00 pm - 6:00 pm

with

Leslie

DoQui Sretenovic




Thu

Feb 15 5:00 pm - 6:00 pm

with

Leslie

DoQui Sretenovic




Thu

Feb 22 5:00 pm - 6:00 pm

with

Leslie

DoQui Sretenovic