Yoga: Yin (deep stretch)
This class is taught by: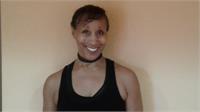 Leslie has been teaching Yoga for over 30 years and was a professional modern dancer, so she knows movement!

"Leslie can easily teach to all student levels. She readily adapts her strengths to fit the demands of the participants and can jump into any class and apply her vast knowledge base to deliver what people expect."
VigorousFlexibility and relaxation.Yin goes beyond the average stretching routine. This quiet, meditative practice focuses on lengthening the muscles and releasing connective tissues (fascia). Gravity is your friend, as you reach your edge, holding a pose for several minutes. It complements yang or "active" yoga-it's a must for any athlete. Stress and injury restrict blood flow causing stiffness and pain. Yin Yoga can help blood circulate better. The focus of this practice is to stretch the large muscles groups that commonly hold stress, such as hips, lower back and shoulders.
Upcoming classes:
Sign Up

Thu

Sep 28 5:00 pm - 6:00 pm

with

Leslie

DoQui Sretenovic