"CIRCUS" class= BODHI+Barre+Pilates Apparatus
This class is taught by: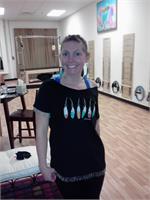 Avril Stevenson is originally from Missoula, Montana. She started dancing at the age of eight with Rocky Mountain Ballet Theatre and received her BA in Dance from The University of Montana in 2004. During that time Avril was introduced to Pilates as dance conditioning. In 2005, Avril moved to the San Francisco area to pursue her career in dance and performed in a number of modern dance companies. In 2006, Avril started her training to become a Pilates instructor with Ellie Herman in San Francisco. She taught at Ellie Herman's Studio/The Center in Oakland and Ironworks Rock Gym in Berkeley from 2007- 2009. In 2009, Avril moved back to Missoula, MT and opened Studio D Pilates & Gallery and taught at the University of Montana until 2014. During that time she began working with Rhizoterra, as the project manager, and decided to move with the company to Spokane. Avril enjoys teaching Pilates and is excited to teach for Team Pilates Spokane.

This "Circus" is a fabulously FUN adventure of movement! It includes a combination of BODHI suspension system, Barre Reformer, Chair and Springboard.
Upcoming classes:
Sign Up

Wed

Dec 19 5:30 pm - 6:30 pm

with

Avril

Stevenson




Sign Up

Wed

Dec 26 5:30 pm - 6:30 pm

with

Avril

Stevenson




Sign Up

Wed

Jan 02 5:30 pm - 6:30 pm

with

Avril

Stevenson




Sign Up

Wed

Jan 09 5:30 pm - 6:30 pm

with

Avril

Stevenson




Sign Up

Wed

Jan 16 5:30 pm - 6:30 pm

with

Avril

Stevenson




Sign Up

Wed

Jan 23 5:30 pm - 6:30 pm

with

Avril

Stevenson




Sign Up

Wed

Jan 30 5:30 pm - 6:30 pm

with

Avril

Stevenson




Sign Up

Wed

Feb 06 5:30 pm - 6:30 pm

with

Avril

Stevenson




Sign Up

Wed

Feb 13 5:30 pm - 6:30 pm

with

Avril

Stevenson




Sign Up

Wed

Feb 20 5:30 pm - 6:30 pm

with

Avril

Stevenson




Sign Up

Wed

Feb 27 5:30 pm - 6:30 pm

with

Avril

Stevenson




Sign Up

Wed

Mar 06 5:30 pm - 6:30 pm

with

Avril

Stevenson




Sign Up

Wed

Mar 13 5:30 pm - 6:30 pm

with

Avril

Stevenson




Wed

Mar 20 5:30 pm - 6:30 pm

with

Avril

Stevenson




Wed

Mar 27 5:30 pm - 6:30 pm

with

Avril

Stevenson




Wed

Apr 03 5:30 pm - 6:30 pm

with

Avril

Stevenson